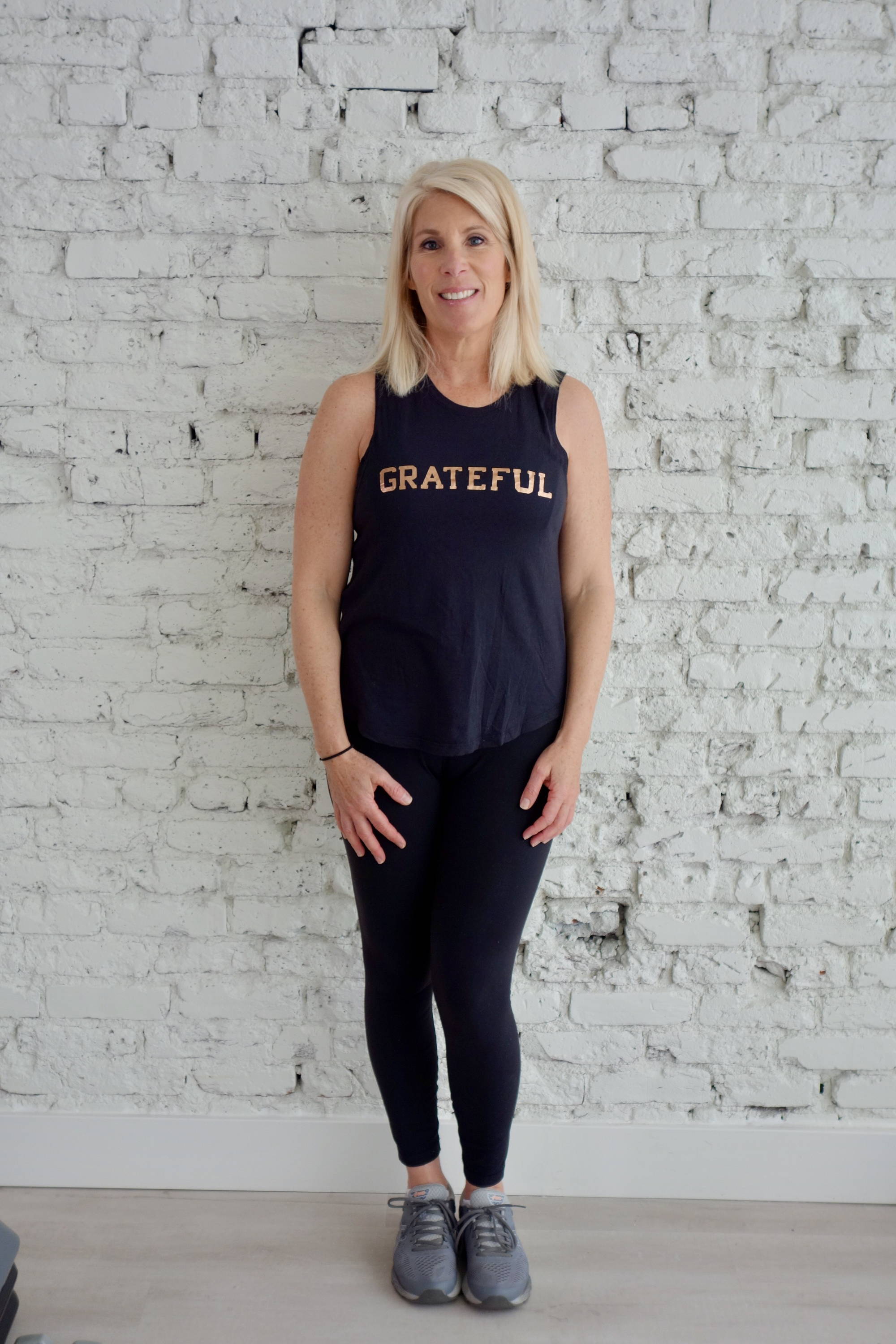 Tell us a little bit about yourself.
I am a 50 year old mother of 21 yr. old twins Reed and Eliza. My husband Brad and I met at CSU and have been married for 25 years. I was raised in CO and love everything outdoors: skiing, hiking, biking and tennis. Yoga and the beach are my happy places. I love my job as a Kindergarten assistant teacher because of how the kids look at the world and how innocent and small their problems can be. They share so much love and happiness everyday!
Why do you exercise?
Exercise has always been an important apart of my life. As a child it provided me with teams and community, but now its a place of respite. Exercise for me is a mental break while being physically active. It is definitely a mind and body experience that I crave in my life. It has also been a source of connection for me to others, as well as, a space for me to be alone and disconnect.
You are a breast cancer survivor. Can you share your story? Scariest part? How did you/do you handle the fear? And how do you feel today?
Last August, I found out that I had breast cancer. I feel like I have spent years waiting to be told this news because of my family history, yet when I received it I was in total shock. In October, I had a double mastectomy with reconstruction. My choice was clear to me and luckily I had a team of doctors and family that felt that I was making a good decision. The worst part for me was telling my children. I remember when my mother told me about her breast cancer and I knew the multitude of feelings they would experience. Luckily, my kids attend college in state and were able to be around as much as they wanted to be. I always had the feeling that I would be ok and its very much my personality to buckle down, take care of things, prepare myself before and after surgery so that I would have a quick recovery. I wanted to get back to my life and being patient with myself during recovery was not easy. Apparently, I am not patient! :) Today, I am 6 months out from surgery and I feel about 95% back to myself. I was very diligent about my PT and playing an active role in my recovery. I feel incredibly blessed for my wonderful friends and family who were so loving and supportive. So many good things come out of difficult times and that lesson was not lost on me!
A piece of wisdom you would like to share with other women.
Wisdom is such an evolving aspect of life based on experiences…but I would say that your attitude is everything. In this world where so many things are out of our control, we can always choose our outlook and attitude. I really believe that it can change your life to see the blessings all around us and to have an attitude of gratitude.
Something you love or a favorite. Something you love to do. Favorite place to travel. Etc.
Favorite place to travel is to the beach!!! There is nothing better than sunshine, water, sand and family. Definitely a happy place for me and my family. It truly fills my soul.